A year of losses
This has been quite a year for Love from Santa Barbara. Eventful doesn't even come close to describing it. It's been a year of perseverance in the face of Montecito natural disasters. Montecito is part of Santa Barbara, and the location of Love from Santa Barbara. This featured photo is our dog, Luna, after thinking she was helping clean up yesterday.
Yes, this business is only about a year old. We went from very significant rain, flooding, and mudslides a year ago, to caring for and losing my mom late in the spring, to California's biggest wildfire in December (The Thomas Fire), to a debris flow in January unlike anything we've ever seen here in Santa Barbara. We're talking biblical proportions. And the fire hit right at the worst time… during the holidays. We had to evacuate our home and place of business at a crucial time and try to carry on as best we could. When the debris flow hit, it ripped out our water pipes from our home. We were without water for two weeks, sheltering in place. We lost power for about three days at the beginning, gas lines were off, and internet down most of the time. By the time they lifted the roadblocks to our house, we were pretty shellshocked. We are now getting our mail and garbage service again after a hiatus of 3 weeks.
To give you an idea of what debris flows are capable of, read this article from The New Yorker Magazine.
Twenty-one people have been killed in the debris flow (including a friend who wanted to get our grandkids together at the pool) and two remain missing. It was absolutely devastating. Homes were swept away and businesses have suffered even more in the aftermath of the fire and while much of the area was closed due to damage from the debris flow. The dump trucks that helped clear the closed freeway for a couple weeks are now taking mud from up our way. It's going to take a long time to clean up the mess created by the Montecito natural disasters.
A few photos of the wreckage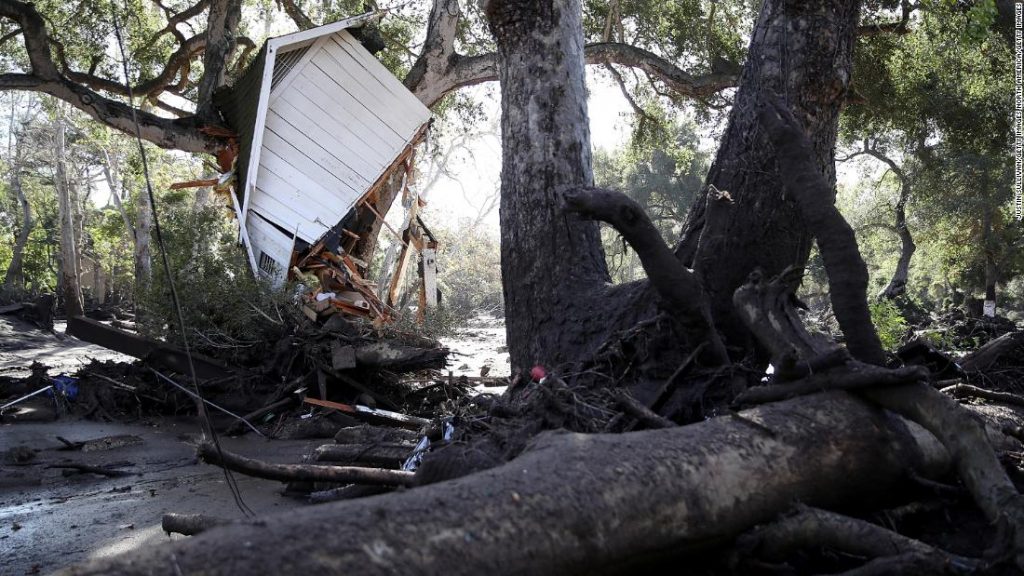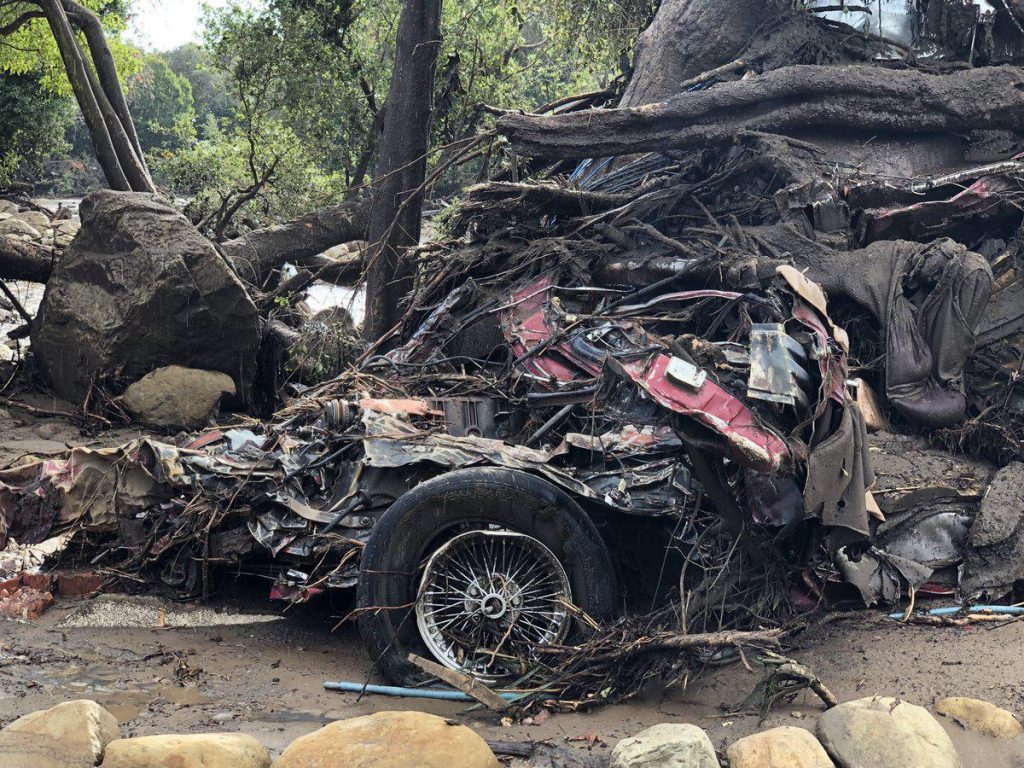 Good things brought by the Montecito natural disasters
On a positive note, I was able to set up a display area at A Crimson Holiday and sell my products to locals. They were able to see, smell and feel the whipped body butter, soap and other skin care products for three months while the store was open. We just close on January 31st for the season, and I look forward to doing it all over again November 1st… without the Montecito natural disasters.
I met lots of nice people through all this, and the love shown by everyone in the community was amazing. Some good friends took us in when we had to evacuate in the middle of the night during the fire. They even took in our dog. A few days later, we were all evacuated from their house and had to find somewhere else to stay. A friend and her honey, whom we had never met, invited us in to their home. They took wonderful care of us and absolutely adored our dog. Plus they even let us set up shop to do what we could to keep our businesses afloat. So we have a lot of wonderful memories thrown in with the disasters that almost took our house… twice.
The creative juices are flowing
Yes, this past year has been a case of perseverance in the face of Montecito natural disasters. But I'm hoping things can get back to some semblance of normalcy now. After the debris flow, I decided just to go to my creative place in my mind and put my worries aside. I started creating things with polymer clay, mostly pens, and I also started creating some fun jewelry and made more guitar/amp-themed bolo ties. These are all things that have been on the back burner while I poured a lot of creative energy into my soap and skin care products. I was the only person at Crimson selling soap and skin care and didn't want to run out. I hope to get some of the new things up here very soon. There are a lot of new things coming.
My soap and some skin care products are available at Aprepo Hair Design on Cota Street in Santa Barbara. Plus there's talk of another location that will be announced at a later date. Right now, I'm just trying to catch my breath. I have lots of boxes to unload, products to photograph and list here on the website, more products to make, and so much to organize, but I'm anxious to get started.
I wish you all the best in 2018. Clean slate, anyone? Um, yes please!