Unique, handcrafted gifts from Santa Barbara
Love from Santa Barbara offers truly beautiful handcrafted products. An online boutique offering little luxuries and unique treasures, you won't find mass produced items here. My goal is to provide products that promote health, vitality, and well being. I hope you enjoy these unique, handcrafted gifts from Santa Barbara and share them with those you love.
The homemade soap and skin care products contain luxurious ingredients that you can actually pronounce. Nourishing oils, soothing butters, and wonderful essential oils along with some lovely fragrances… using organic ingredients whenever possible. These products feel amazing on your skin and smell lovely. And it's all made by hand with love in small batches.
Take a look at the products listed here on the site. And check back often to see what's new! Something is always in the works… the newest additions are guitar themed bolo ties, some fun jewelry, and polymer clay pens.
Also, if you are planning for an event, wedding or corporate party, you can order custom gift packages. So enjoy looking around and please drop a line if you have an inquiry about a special order.'Cause who couldn't use a little love from Santa Barbara?
Note: if you'd rather just look at cards and postcards, visit Santa Barbara Greeting Cards. There are some beautiful sets that make very unique gifts. But they are all included here as well.
A little about Santa Barbara
Santa Barbara is a uniquely beautiful place nestled between the Pacific Ocean and the Santa Ynez Mountain Range. The climate is very temperate pretty much year round. And Santa Barbara has a lot to offer. People come here to get married, vacation, or just get away for the weekend. In addition, this area boasts some of the best wineries in existence. Going wine tasting is a big thing here. So is hiking, beaching it, and hanging out at the many great places to eat. Furthermore, Santa Barbara is one of the biggest orchid growing areas in the country. So if you're into wine, flowers, the mountains and beaching it, it's hard to beat. You can find a lot of inspiration in this place we call home.
Featured Products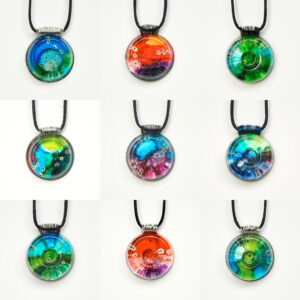 Funk Zone polymer clay pendant necklaces
The perfect gift for someone you love… or yourself! Scroll through the photos and see what appeals to you. The item number is in the caption below the photo. If you don't see one you're interested in, that means it's sold.
$

29.95
Select options
Latest from the Blog
Sum sum summertime! So here it is the middle of July! I thought I'd give you an update with summertime goings on at Love from Santa Barbara. One of the newest products... Read More
Yes, it's spring already. Happy Spring! And what a year. In addition to the natural disasters we've had here, it's going on a year since my mom died. I still have a hard... Read More