New wine inspired products coming soon!
There are lots of new skin care products coming soon. Most recently, I've been working on getting some moisturizing soap made, since it needs to cure for 4-6 weeks. Since wine country is all around us here in Santa Barbara, what better to emphasize in some of the products than wine?
I've cheated a little and already started using a couple bars, but they don't last as long as when they go through the curing process. One of the soaps features lavender seeds that I brought from France, although lavender grows in the Santa Barbara County as well. I use mostly organic ingredients whenever possible.
A little preview of what's coming…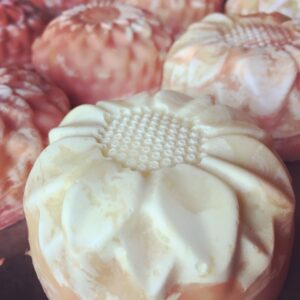 First up was some soap actually made with rosé wine. It's called Rosé Olé and is very moisturizing… made with oilive oil, coconut oil, palm oil, sweet almond oil, shea butter, and castor oil. It's scented with essential oils (lavender, geranium, sweet orange, and cedarwood) and a little vintage wine fragrance oil.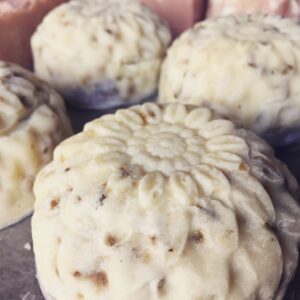 Next up was some butter soap I've called Lavender Merlot Moisturizing Soap… made with coconut oil, olive oil, shea butter, cocoa butter, palm oil, and castor oil. I added lavender seeds and scented it with lavender, vanilla, cedarwood, black pepper and some merlot wine fragrance oil. I didn't put that much in, so the ingredients of the soap come through more. I topped it off with more lavender and a few rose petals. So pretty!
Then last night I made some wonderful soap I'm calling Orange Mocha Spice. It's still in the mold, but made with shea butter, palm oil, coconut oil and olive oil. I put some freshly ground Italian Roast into it, then added some swirls with cocoa powder added, and other swirls with cinnamon added. It's scented with sweet orange essential oil, which smells lovely!
Some other new products I'll be adding soon are Que Syrah Lip Butter, Chardonnay Thyme Body Scrub, Zin-fully Decadent Whipped Body Butter, Blood Orange Margarita Bath Salts, Mimosa Time Bath Fizzies, and a Cocoa Cabernet Lotion Bar! Can't wait to share them with you!
Happy Spring!